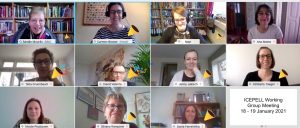 18 – 19 January 2021: Our 3rd Transnational Meeting transformed into a Virtual Working Group Meeting to accommodate COVID19 restrictions. Organised by Carmen Becker and her team at Technische Universität Braunschweig, Germany we spent two days together working on three of our Intellectual Outputs:
The ICEPro Course: Updates on progress
The ICEkits: Sharing an almost-final-version of the designed ICEKit#1 Perfectly Norman by Tom Percival (Bloomsbury 2017)
The ICESurvey: Presenting and comparing our results across the five countries; identifying the implications for our professional training course; and planning how to disseminate the results.
It was a busy couple of days but it was great to be together and move the project forward. Things are really taking shape.
A big thanks to Carmen and her team for making us so welcome and comfortable.