Date: 26 June 2020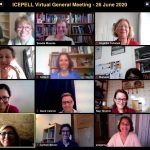 On Friday 26 June we got together as a consortium and shared some of our activities associated with the planned Intellectual Output activities, providing a motivating up-date for everyone.
We shared the following:
Our picturebook selection questions, which have guided us in beginning our selection of picturebooks for ICE
An overview of the ICEkit drafts and some of our decision making
An eTwinning cycle which will help teachers and children take action across borders
An overview of some of the ICEPro Course sessions with objectives and targeted picturebooks, and proposed session templates.
We all realised that we'd actually managed quite a lot considering the complications we've encountered due to COVID-19.
Congratulations everyone!