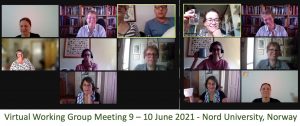 9-10 June 2021: Our 4th Transnational Meeting transformed into a Virtual Working Group Meeting to accommodate COVID19 restrictions. Organised by Nayr Ibrahim and David Valenet at Nord University, Norway we spent two days together discussing feedback from our Spring ICEPro Course, our Multiplier Event and working on three of our Intellectual Outputs:
The ICEPro Course: Feedback from Spring ICEpro and revisions for Autumn ICEpro with a focus on mentoring.
The ICEKits: Revising the template and content and a timeline for the designer.
The ICEGuide: Discussing content, authorship and a timeline for writing.
It was an exciting couple of days with lots ot talk about and share. We even had time for some virtual entertainment and jollity!
A big thanks to Nayr and David for making us so welcome and comfortable.